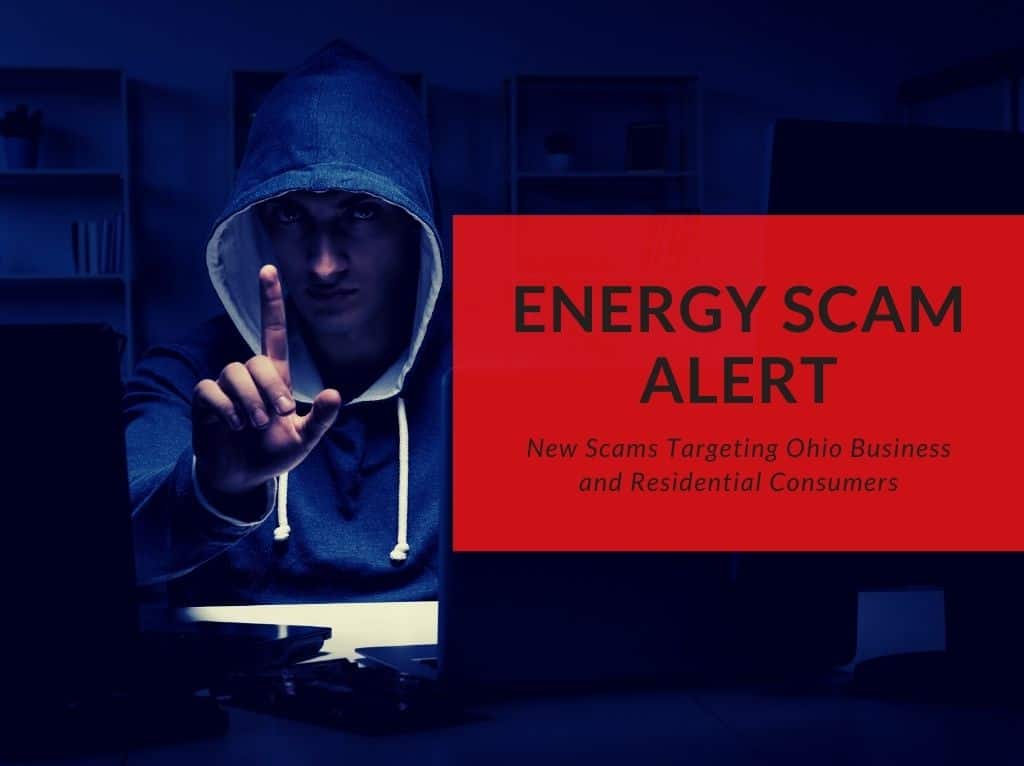 Energy Phone Scams - New Alert
COVID-19 has created a captive audience ripe for energy phone scams. With consumers at home by the phone and businesses looking for ways to tighten budgets, a new wave of energy fraud is on the rise.
Record Number of Energy Scam Complaints
According to Duke Energy, they logged a record high of 4,000 customer scam complaints in June 2020 and more than 15,000 so far in 2020. The company also noted the scams have evolved, becoming more sophisticated, urging consumers to heightened vigilance.
While not all scams are the same, business and residential energy consumers (electric and/or natural gas) should stay informed and watch for these new tactics:
Energy Phone Scams – You Can't Always Trust Caller ID
The phone rings, you check caller ID, and it looks like the utility is calling you. Unlike random 800 numbers you might be inclined to ignore, when the utility calls, it's a slightly different story. Scammers know that, so they use a tactic called spoofing to make it look like they're calling from the utility. Callers will impersonate utility company employees. They might even go so far as to clone the utility company's automated menus, making it extremely difficult to distinguish a legitimate call from a fraudulent one.
Many consumers have become wise to such tactics and have taken precautions like refraining from interacting with such calls and instead placing a return call to the utility company.
This preventative measure may be effective, with one caution – make sure the phone number you call back is the one printed on the invoice you receive from your utility company. Don't call the number the caller provides. Return call numbers also mimic utility company phone numbers, automated greetings, and hold music.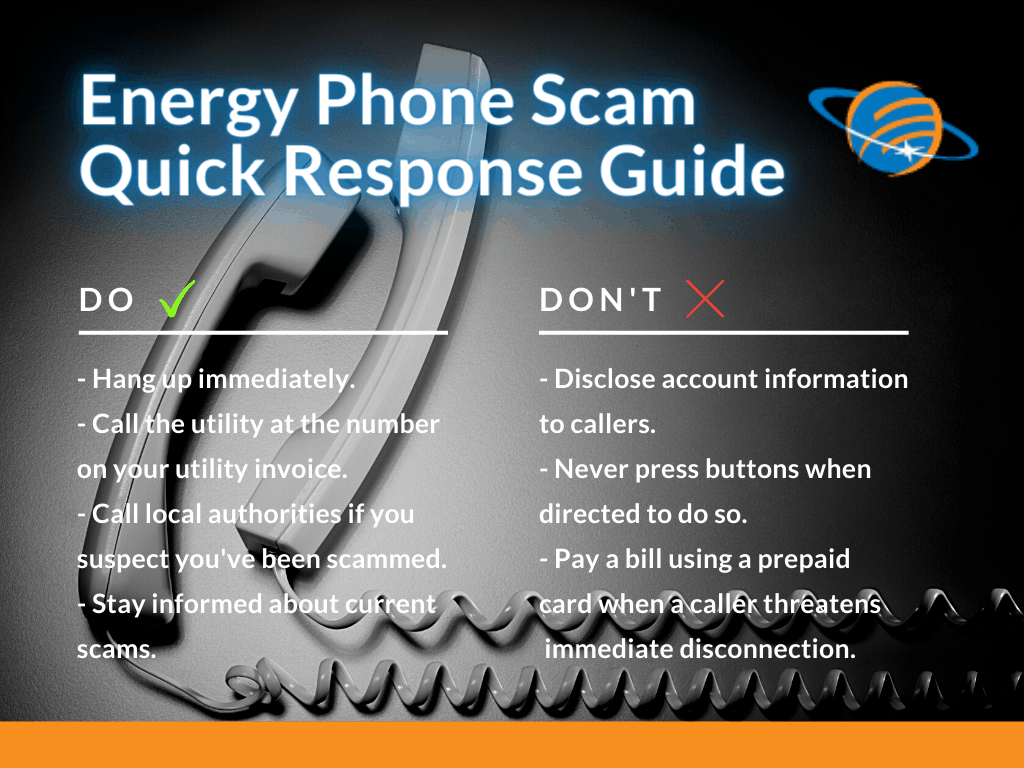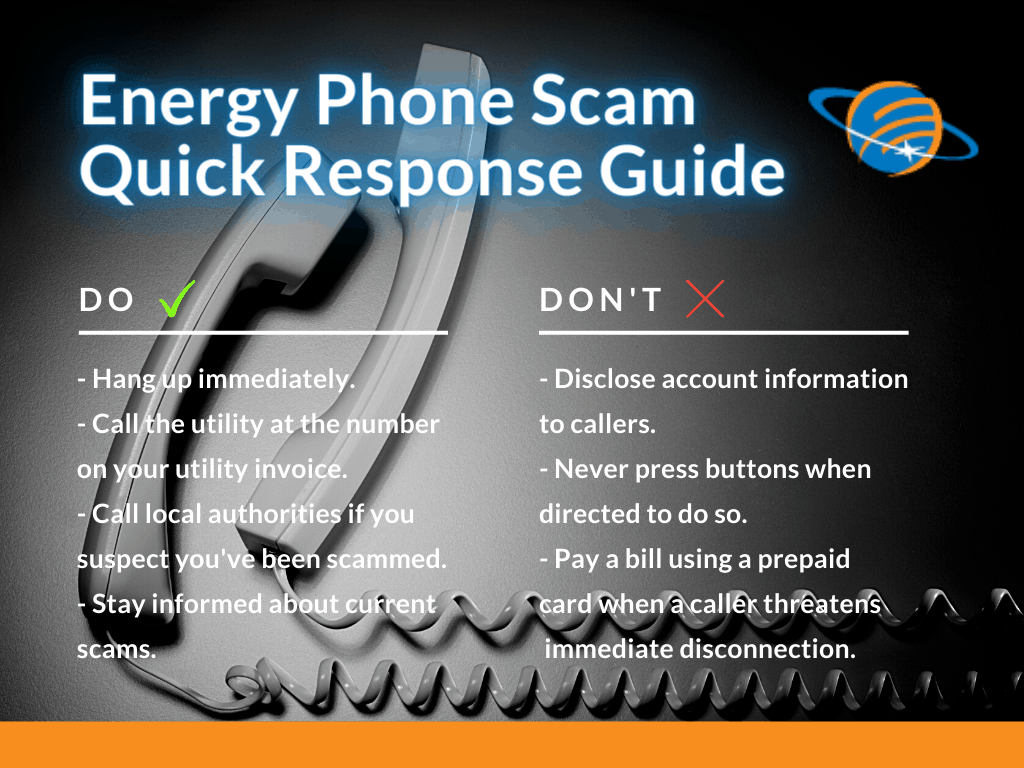 Anyone saying they are from a power company, but needs your information over the phone, is a scammer.
Energy Phone Scams – Threats and Promises
Until recently, energy scammers focused on manipulating the customer to give their consent to switch energy plans. Callers commonly promised lower rates or rebates, avoided disclosing contract terms, and then left the consumer with a variable rate contract that cost substantially more over time.
However, the economic uncertainty prompted by COVID-19 has spawned two new scams – energy rebate promises and disconnection threats. Be alert if you receive one of these calls.
Refund checks – The caller will inform you that you have an overpayment on your account. They state they will mail you a rebate check for the overpayment if you can verify account information. Often they are asking you to provide your birth date, social security number, Federal Tax ID, or other information from your utility invoice. They may claim they need to verify the information for account security.
Generally, utility companies will post overpayments as credits to your account and don't call customers asking them to disclose secure account information. A report from Strongsville's Patch states utility companies don't call consumers and require them to verify personal information over the phone, "Anyone saying they are from a power company, but needs your information over the phone, is a scammer."
Disconnection Threats – Small businesses have been increasingly victimized by this energy phone scam. Callers threaten disconnection if immediate payment isn't made. In some instances, consumers are prompted to pay by pre-paid debit card (like Green Dot) or a money transfer service (Western Union)
Youngstown's WFMJ urges consumers to hang up if a caller threatens to disconnect your power service unless immediate payment is made. "Customers who are behind on their accounts receive written notices of a possible disconnection and how to prevent it…representatives often make courtesy calls to explain how a payment can be made using the secure payment options. It is never required to purchase a pre-paid money card as the only acceptable means of payment."
Robocalls Are Illegal, But Not Going Away
You might be inclined to think the robocall you're receiving is legitimate because The Telephone Robocall Abuse Criminal Enforcement and Deterrence Act, or TRACED Act makes it illegal to spam call customers. While telemarketing consumers without their written permission and spoofing phone numbers was already illegal, it's something the FCC rarely enforced.
Even though the new legislation puts the responsibility on telephone companies to stop the calls before they reach consumers, the effort is in progress and has a long way to go. It's also likely to remain an ever-present threat as industry experts warn scammers will always find a way to reach their targets.
The best prevention? Prioritize mitigation through education and vigilance.
Energy Phone Scams – What To Do When You Get The Call
It's not a matter of if you get the call so much as when you get it. Here's what you can do when it happens to you:
Hang up – especially if it's a robocall. If you want to verify the authenticity of the caller, call the customer service number on your utility invoice.

Never purchase a prepaid debit card or gift card to make an immediate payment to avoid a service disconnection or shutoff.

Send your payment to the address on the invoice you receive from your utility company. Never use a payment account provided to you by an unknown individual.