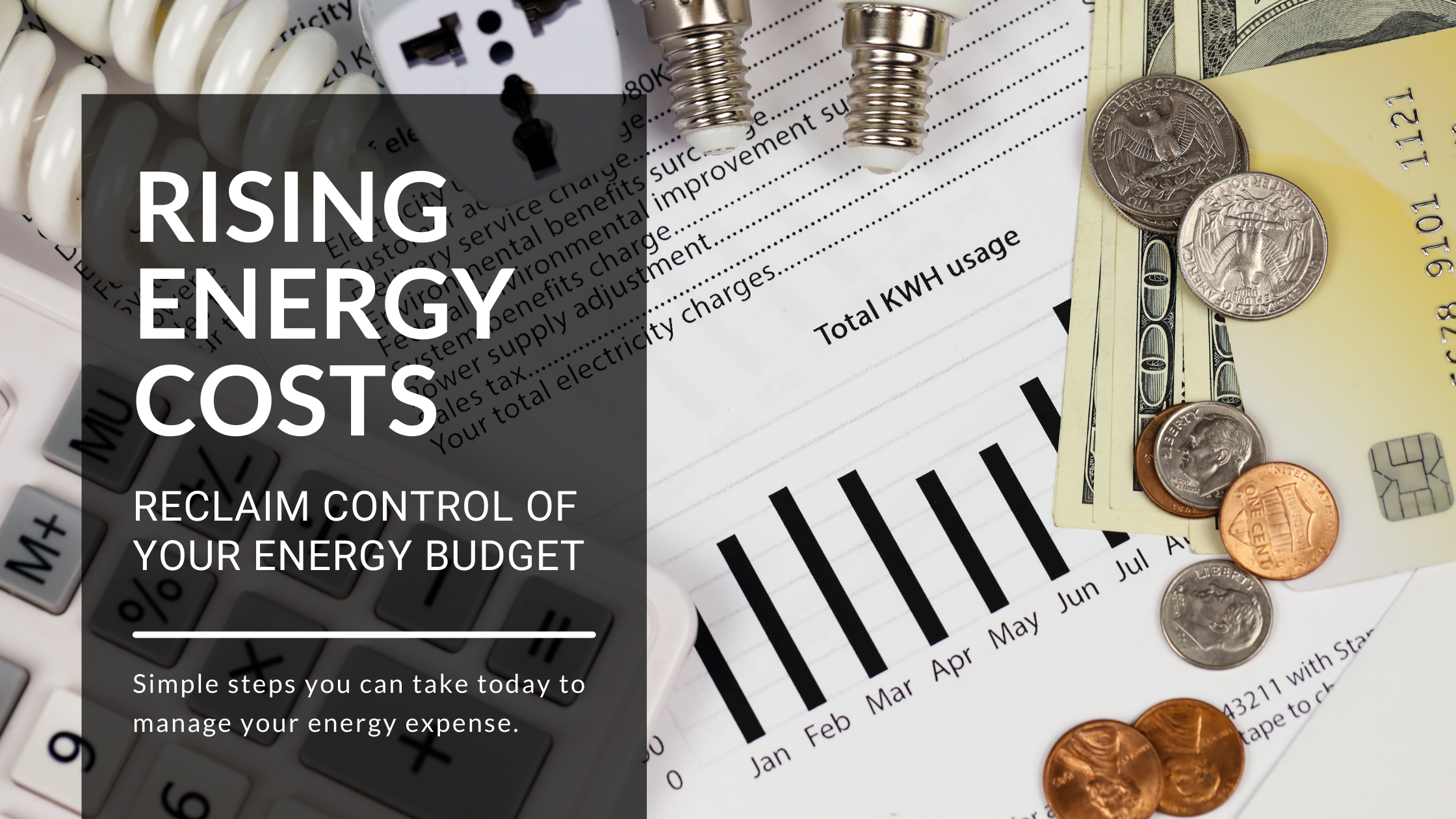 Ways to Protect Your Business From Rising Energy Costs
Struggling with inflation and the current economic outlook? You aren't alone. The results from a recent study revealed 71% of small business owners believe inflation has had a negative impact on their business, specifically in the form of increased costs for goods and services. The same study found 58% of respondents are constantly worried about their business' finances. According to a separate Goldman Sachs survey, 73% reported increasing energy costs are having negative impacts on their bottom lines.

The good news is that there are things you can do to control your energy expense and it doesn't have to mean adding more work to an already overloaded schedule. Taking small steps can make a big difference. We'll take a look at a few of those options next, in order of increasing complexity.
---
Energy Assessment
Time Investment: Low. Basically, the amount of time it takes you to find an invoice and email it.
Overview: Simply send us a copy (front and back) of your recent electric and/or natural gas bill(s). We'll review the invoices to check common billing trouble spots including sales tax calculations and tariffs. We'll also reconcile the rate you're being billed to your contracted rate and evaluate current offers to identify potential savings opportunities.
The Benefit: For minimal time investment, this is one of the easiest ways to make sure you aren't paying too much. It has saved businesses substantially on their regular monthly energy bills. Since it's free, there's nothing to lose which makes this a great first step in controlling your energy expense.
Energy Conservation
Time Investment: Low. You'll need to conduct a quick review to identify opportunities for improvement, list the changes you'd like to make, and communicate them to your team.
Overview: The cheapest energy is the kind you don't use. It might seem obvious, but before you jump into more complicated projects to save on energy expense, why not start by simply using less?
Conduct a quick energy audit and prioritize changes you want to make. Be sure to communicate your plan to your staff and ask for their help in reducing the amount of energy your business is using. Here are some simple ideas to get you started:
Turn off lights, appliances, and office equipment not in use.

Make sure power saving features on printers, monitors, and computers are enabled.

Close blinds on windows facing the sun to control radiant heat's impact on indoor temperatures.

Shut exterior doors when running the air conditioner/heat.

Set your thermostat as high as comfort permits. Depending on the size of your business, every degree up can cut consumption by 3%.

Change HVAC filters regularly. Clogged filters mean the system has to work harder to move air which requires more energy.

Seal gaps in windows and doors with caulk/weather stripping.
The Benefit: Small changes in habits will reduce the amount of energy you use to power your business. The less you use, the more you can control your costs. Additionally, research has shown even simple sustainability measures can have a positive impact on team morale.
For additional suggestions, check out our free Energy Efficiency checklist.
Energy Efficiency
Time Investment: Medium to High. Energy efficiency projects range from inexpensive and simple to costly and complex. The amount of work required on your part and time the project will take to complete will vary based on project type and whether you use a project manager.
An Overview: It's worthwhile to begin with an on-site evaluation, conducted by an energy efficiency expert. Professionals have experience identifying the operational and facility changes that will return the best results. If this is something you'd like to do, we can help, beginning with a free energy efficiency audit.
Energy efficiency projects may include:
Lighting
– LED
– T12 to T8/T5 upgrade
– Solid state ballasts
– Lighting retrofits
– Electrical upgrades
– Occupancy Sensors
Plug & Process
– Building automation
– Electric motors and drives
– Energy management and benchmarking
Heating & Air Conditioning
– Boilers, steam traps, and pumps
– Chillers, rooftop, and new AC units
– Temperature control systems
– Heat wheels
– Thermal ice storage
– Variable frequency drives
Building Envelope
– Windows
– Doors
– Roofs
The Benefit: Simply put, energy efficiency saves money. In fact, for both industrial and small commercial buildings alike, studies show simple paybacks from energy savings alone of 2 years or less – meaning annual energy savings of at least 50%.

In addition to the options discussed here, solar, demand response, and capacity management offer other strategies for controlling consumption, minimizing exposure to market volatility, and reducing energy-related expense. Since these solutions are often targeted for specific businesses needs, we won't examine them here, but if you're interested in more information or want to better understand how these options can help your business, we encourage you to contact us.
As all businesses confront rising inflation, market volatility, and rising energy costs, it can be easy to feel overwhelmed. That's why it's important to understand your options. It will allow you to take simple steps that can help you control what you can. Remember, we're here to help.